---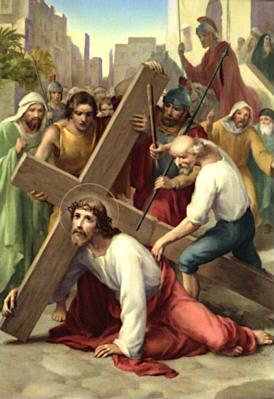 What am I giving up for Lent
Jesus, you loved me so much that you died for my sins and rose again so I might share in eternal life with you, the Father and the Holy Spirit. May these Stations of the Cross help me to realize that love.

At each station, think about what happened to Jesus. Think about how he suffered for us and how much he loves us.

At each station say:
1 Our Farther
1 Hail Mary and
1 Glory to the Father

Before each Station, genuflect and say:
"We adore you, Jesus because by Your cross, You have redeemed the world".

Jesus is condemned to death
Jesus falls the first time
Simon of Cyrene helps Jesus
Veronica wipes Jesus' faith
Jesus falls a second time
Jesus meets the sorrowing women
Jesus talls the third time
Jesus' clothes are torn from him
Jesus is nailed to the cross
Jesus is taken from the cross
Jesus is laid in the tomb